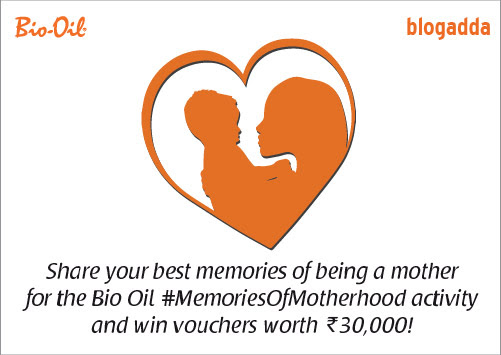 I have been a mother for 33 years now and a grandmother for 2 yet despite all these years there are some memories of motherhood that will remain with me forever.
Waking up to pure sunshine
My first born was a pretty little girl who always woke up with a smile. Right from the time she was born, she would stretch out her arms and crinkle up her face and then break into a smile that was pure sunshine. When she was older she would march into our room and draw the curtains and say " Mama, wake up it's morning!" Who could remain asleep with a wake up call like that?
A year and a half later we were blessed with another little girl who looked just like her sister did on day one but turned out to be a completely different kettle of fish. I wondered how the elder girl would accept another sibling but two hour's later , when she visited me with her father, she took one look at her sister and said " Mama, give."
The little one had a different wake up routine for us – one that involved her wiggling into our bed in the early hours of the morning, getting in from under the sheet and cuddling up. She would wake me up with a wet slobbery kiss and couldn't understand why I wanted to wipe it off. One night she actually asked if she could come into bed with me and was astounded when I said no. Undaunted, she went to her father's side of the bed and asked " Dada, can I come?" and even before he said yes, she was back between the two of us, happy with her world.
My first one was the quiet one, serious and thoughtful but learnt very early in life to say "I lab u." When I asked her how much she'd say, " Five" holding out all five fingers. When we pointed out that it was only five, she replied " But Dada, that's my whole hand!!" That was all she could hold and that was what she gave to us – her entire world.
Growing wings
The girls babyhood was idyllic when our entire house would be converted into a zoo, a shop, a train, a castle or anything that caught their fancy. We'd spend hours playing imaginary games in our makebelieve world and the best time would be bed time when I'd turn out the lights after the bedtime story, sing them a song and draw the curtains as they went off to sleep. But even though we spent hours doing fun things like finger painting, going for nature rambles, having picnic lunches in our balcony, it was time for them to go to school for more formal learning and peer interaction. Like every mother I was apprehensive about how they would adjust to this transition into the "big, bad world " but they were both ready and happy to spread their wings. They loved school and would get down from the car holding hands, with their water bottles slung sideways and wave goodbye.
I loved dressing my girls in identical clothes. In those days I used to go to a sewing class and often took them fabric shopping to choose their colours. I was often amazed at their choice of fabric but somehow it turned out right. What fun it was to choose a pattern and the lace and buttons and finally have them model my creation. I seemed to be having an extended childhood which I spent countless hours in  playing with dolls
Indeed those days seemed magical  taking them shopping to buy little doodads for their hair, making cup cakes and cutting cookies, browsing at the book stores,watching the endless plays they would put up to entertain us, taking them to piano class and listening to their tuneless practice of John Thompson. Every evening after school I would take them to the club for a game of badminton, tennis or a swim, depending on what the weather was like. I would watch them like a hawk while they were being coached and beamed with pride when they learnt to play a decent game.
I loved taking the children to school and back. In fact a large part of my life has been chauffering them. But they were fun times when we sang songs, played word games, asked riddles and later on used this time to share gossip and school secrets. Both my girls are working women and mothers, but I still chauffeur them around!
Watching my girls grow into young women was pure joy – a journey I thoroughly enjoyed. Every summer I would take them by train to visit my parents and leave them there for a four week break so that they could enjoy the pleasures of living in a small town, in an independent house and garden and also bond with my family. It was a lovely train ride during which each child had a Tinkle comic book, a glass of orange juice, some crayons and a scribble pad to keep herself busy. We normally arrived at my parents' home in the morning and the first night ended with a TABC injection so that they could spend the rest of the summer swimming. At the end of the holidays, my husband and I would drive up to bring them back home.  Since the little one was prone to motion sickness, we travelled early in the morning and I remember one holiday when she suddenly woke up when we were driving through heavy fog and asked, " are we in heaven Mama?" she asked. Thankfully we weren't.
I wanted my girls to be independent and self sufficient and encouraged them to explore, to enquire and to find out. I remember my elder girl didn't really like walking and would often grumble and threaten me " I'll tell my Dada," knowing that her father would indulge her, but I stood firm and took them for adventures to the fish market, the vegetable market and even the beauty parlour! We took them on holidays abroad too and I can never forget how excited they were the first time ever they saw the "magic steps" ( the escalators).
I am proud to say that my children won prizes for excellence in school and every Speech Day, I would beam as both of them marched up to collect their gift coupon from the Chief Guest. Then we'd go down to Strand Bookstall and exchange the coupon for a book and go to the Club for a celebratory lunch. Both my girls were talented musicians too and I spent hours ferrying them to and fro their piano lessons and choir practice.
Leaving home
I think the hardest part of motherhood is when your children really leave home. My elder girl wanted to study abroad and my only regret is that I let her go. At that time, I encouraged her to see the world and find herself but today I realise that was my one big mistake because I lost her there forever. The lure of the Western world was far too strong for our bonds of love to hold and even though she is happy in her world,  a gaping hole remains in mine, an ache I feel will never heal.
But luckily my little one didn't move too far and I get to see her every day.
"I am sharing my #MemoriesOfMotherhood with Bio Oil and BlogAdda. This Mother's Day check out the Yummy Mummy calendar and  make a similar calendar of your own using the Bio Oil App."